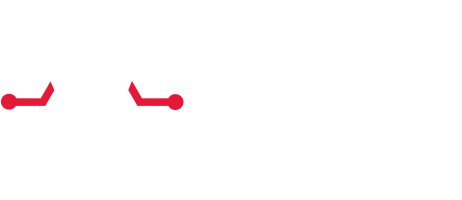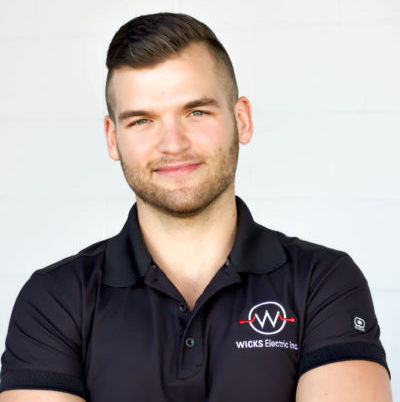 Adam Wicks
Founder/CEO
Adam spent his early years growing up on Bowen Island, eventually relocating with his family to North Vancouver. He attended Sutherland Secondary, where he excelled, both academically and in sports. He was the captain of the basketball team and was named Athlete of the Year for his two senior years. His leadership skills were evident even then. Adam was honoured to speak to the over 1200 students of the graduating classes of VCC and CDI in the fall of 2015 and was the keynote speaker at BCIT's 2016 Alumni AGM.  He is also thrilled to be a winner of BC Business 2016 30 Under 30! Adam began his electrical apprenticeship in 2007 with the one goal in mind: to acquire and master the necessary skills to start his own business. Building a reputation for a business that provides outstanding workmanship and customer service while providing people with a job they love has always been the source of Adam's excitement and inspiration. He has established a team of first class electricians, ones who share his passion for the trade and who portray the same positive energy. Adam believes building long lasting and trusting relationships with all his clients will be the key to his success. In what little spare time he has, Adam enjoys playing in the men's basketball league that he sponsors, hitting the gym, hiking, snowboarding, travelling and reading.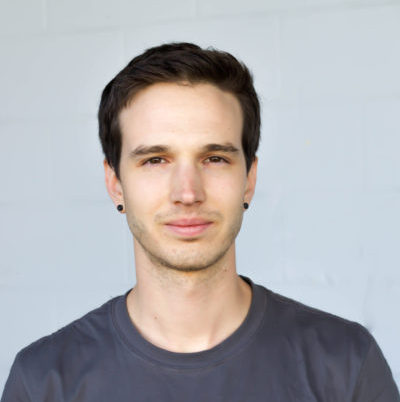 Jesse Ramage
Journeyman
Jesse hails from Prince Albert, Saskatchewan. He recently relocated to BC and joined us at Wicks Electric.  Jesse attended Saskatchewan Polytechnic in Saskatoon where he received his Red Seal Journeyman ticket in 2013. He has been working in the electrical trade for 7 years. Jesse is also an accomplished drummer, having toured across the US with a progressive Indy rock band, and more recently, with Christian artist Dustin Smith. In his spare time he enjoys playing drums and guitar, and is a big outdoor enthusiast. In addition to hiking, camping and canoeing, he loves to snowboard and ride motorcycles.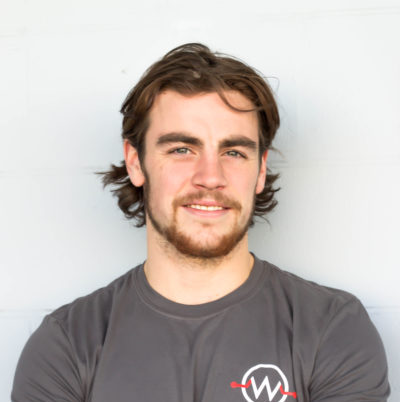 Quinn Pearson
Journeyman
Quinn was born and raised on the North Shore and also attended Sutherland Secondary.  He was working as an apprentice for another electrical company when he ran into Adam at the gym one day.  Recognizing the Wicks Electric name on Adam's shirt from high school, they struck up a conversation.  Adam was impressed with Quinn right off the bat and soon convinced him to join Wick's Electric where has quickly risen through the ranks to become an important member of them team, successfully managing job sites and projects. In December 2017 Quinn completed his apprenticeship and is now a Red Seal Journeyman Electrician. Adam says that Quinn is an all-star in everyone's books and is an invaluable member of the team. Quinn is a huge sports fan, (Go Canucks Go!) and enjoys playing hockey, soccer and working out.  He enjoys being on and around the water and loves to fish.
Daniela Pluess
Journeyman
Daniela grew up on the beautiful Sunshine Coast. Starting at a young age she would help out with family renos. After high school she took a Trades Discovery Course and fell in love with electrical. She completed her apprenticeship thru BCIT and received her Red Seal certification in 2011. She has vast experience in high end residential and commercial projects. In her spare time she loves camping, hunting and hiking with her puppy 'Sparky', a Wheaton Terrier/Poodle cross. She is training to be a competitive fitness athlete.
Bill Wong
Journeyman
Bill was born and raised in Vancouver and completed his Red Seal ticket at BCIT. At one point he and Adam were classmates. They share a similar dedication to the trade and Bill joined Wicks earlier this year, bringing over 11 years of varied experience to the team. Bill is dedicated to perfection in his work. Bill was married July 1st this year and he is enjoying the journey with his new partner, Tracy. Bill enjoys racquet sports and has traveled to Hawaii, China and throughout the western States, and is looking forward to a honeymoon somewhere new in the near future.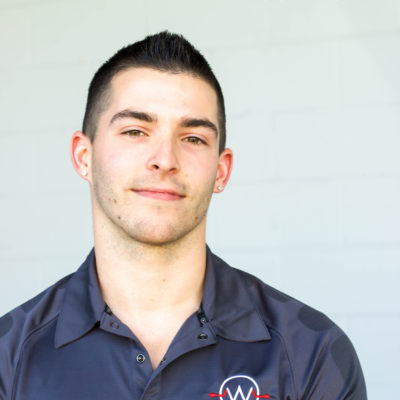 Tyler Wicks
Journeyman
Tyler spent his early years on Bowen Island as well. While attending Sutherland Secondary he attained his Bronze Cross in swimming and became a lifeguard and swimming instructor. His infectious enthusiasm and cheerful good nature made him a popular favourite among the children he taught. He continued lifeguarding after high school, while studying Real Estate at UBC. He then worked as a Realtor for Sutton Realty, also working with his brother Adam when time allowed. Tyler has been involved in the company from the start and now, after 4 years, he displays the same exuberance and cheerful. positive nature that makes him an expert in customer service and project management, at which he excels. He is still a licenced realtor and achieved his Red Seal Electrician in the summer of 2017. Tyler enjoys sharing his spare time with his fiance Natalie and their dog Shylo, walking, hiking, golfing, working out and snowboarding in the winter months.
Dustin Urdea
Electrician
Dustin met Adam through a mutual friend and would run into Adam at the gym and they would strike up a conversation. He was just starting his apprenticeship at that time over three years ago. As Wicks Electric grew and Adam was looking to hire an experienced 3rd year apprentice he immediately reached out to Dustin and asked him to join the team. Along with experience he contributes his enthusiastic energy to the team. Dustin is an avid hockey player and has played the sport for over fifteen years, 11 years in a minor league and 4 years in junior hockey in the Lower Mainland, Kootenays and Alberta and loved every minute of it! He also coaches peewee hockey at the North Shore Winter Club. In his spare time he enjoys working out and long walks on the beaches.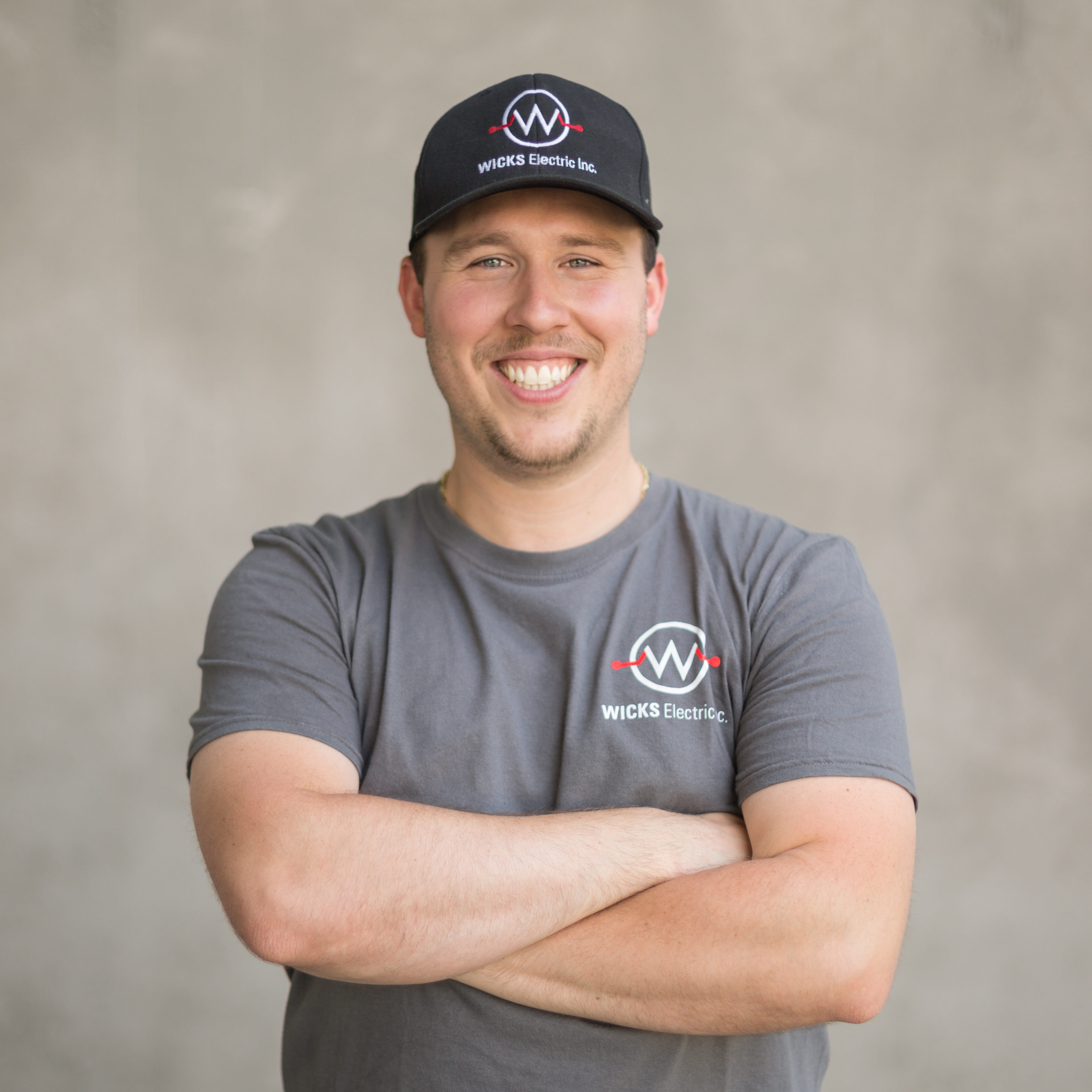 Andre Boileau
Electrician
Andre was born and raised in Vancouver. He and Adam went to school together, from Grade 6 to graduation. His happy, easygoing nature and quick smile made him a favourite with the whole family. In 2011, he received his BA degree in Resource Based Tourism Management and a minor in Marketing at UNBC. Andre was one of the first members of the Wicks team and now his passion for creating, building and finalizing projects has recently led him to step back into the electrical trade realm and pursue his education at BCIT in electrical. A major dog lover, Andre enjoys reading, cooking, snowboarding, travelling, swimming and being outdoors.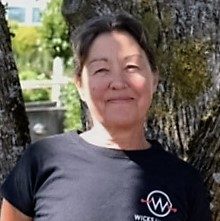 Cathy Wicks
Head of Administration
Cathy (Momma Goose) helps out on the administrative side of the business. After 35 years in nursing she retired from the profession and she and Terry moved to the Cowichan Valley on Vancouver Island. Cathy and Terry celebrated their 34th anniversary August 2016! Cathy brings her sense of entrepreneurship to the company as she ran her own successful home health business with over 100 employees for a number of years. She has travelled widely, mostly to warmer climes where she was a sailing instructor, a DiveMaster and she has delivered yachts to and from all points between Mexico and Northern BC. Cathy enjoys being on, in or under the water, horses, long walks,  gardening and cooking and is an avid reader. But best of all, she enjoys spending time with the boys;  Adam, Cody and Tyler!